The Cognate SS-1200, along with the extra panel, is an advanced yet cost-effective Operating Table Remote Control designed exclusively for the 'C' ARM Image Intensifier. The unique design allows the device to perform exceptionally well over competitive offerings in Orthopedics, Micro-Neuro, Ophthalmology, Cardiovascular, Urology, Ob/Gyn, and ENT, among other minor or major operations.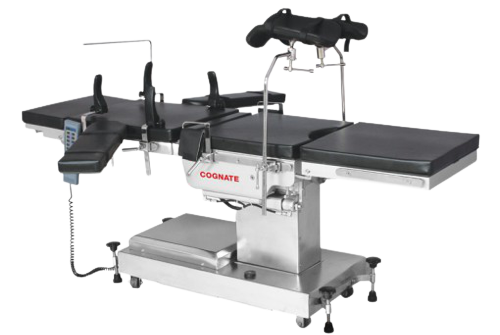 Column and base covers are made of Stainless Steel, which eases cleaning and improves hygiene.
The Electro-Mechanical driving system guarantees quiet and smooth movements of the Table Top.
The Table Top is positioned excentrically without cross members to maximise the accessibility of the image intensifier for both Lateral and A/P Exposures.
Head and Leg sections that are interchangeable and operated manually through a precise Ratchet System.
Operating Positions including Trendelenberg, Reverse Trendelenberg, Height Adjustment, Lateral Tilt and Back Section that can be controlled precisely and expeditiously using a lightweight Hand Control Unit.
Table Top is made of Radio-Translucent material providing Fluoroscopic capability.
| | |
| --- | --- |
| Wrist Strap | 1 Pair |
| L-Shaped Anaesthetic Frame | 1 Pcs |
| Waterproof Rubber Mattress | 1 Set |
| Knee Crutches Goepal Type | 1 Pair |
| Shoulder Support with Pad | 1 Pair |
| Lateral Support with Pad | 1 Pair |
| Arm Board with S.S Top | 2 Pcs |
Ortho-Surgery
Orthopedic Hand Traction Device
Orthopedic Leg Traction Device
Radio
Popliteal Support
Translucent Hand Operating Table
Steinmann Pin
Tibia Support
Hip Nailing Support
For Miscellaneous
S Drainage Tray together with drain hose
S TUR Drainage Tray together with drain hose and sieve
Cassette Holder, together with a Carrier for A.P. Radiography
Radiography (X-Ray) Radio-Translucent Table Top
S Lateral Cassette Holder
Saline Drip Rod together with Clamp
Adjustable Arm Support together with cushion
S. Instrument Tray together with frame hanger
S. Mayo's tray together with frame hanger
For Neurosurgery
'M' type face Head Rest
Spinal Bridge
Neurosurgical Attachment for Sitting Up-position/Prone Head Rest
Sugita Head Clamp for Sitting/Prone Position
3 Pin Skull-Clamp for the Micro-Neuro-Surgery