The source of light in the endoscopic equipment with diagnostic and practicality is made up of four high-intensity LED lights.
With image analysis and efficient control of the intensity ratio between several lights, this innovation allows for the generation of visuals suited for their potential uses. The 7000 system uses 4 types of high-intensity LEDs: a blue LED that produces short wavelength radiation and a combination of red, green, and blue LEDs that produce white light. To create LCI and BLI visuals, multi-light technology executes signal processing on images captured with white light and short wavelength radiation.
High-contrast views are supplied for examining microvascular and microsurface patterns. With BLI, magnifying endoscopy is a breeze.
LCI (Linked Color Imaging)
For surface pattern and vessel detection, LCI could be useful. The normal tone is used to detect a minor color variation utilizing the "Red" element.
With an identical color scheme to the Xenon illuminator, vibrant, crisp, and stereoscopic visuals are achieved. High-definition and low-level distortion are both possible with mega-pixel CMOS.
Observation modes can be switched by scope button.
EC-760R-V/M, I, L, EC-760P-V/M, L and EC-760S-V/L
Even areas that are hard to observe such as the reverse side of folds could be observed and approached smoothly.
Megapixel CMOS + HDTV output
EG-760R, EG-760Z, EG-760CT, EC-760R-V/M, I, L, EC-760ZP-V/M, L, EC-760P-V/M, L, EC-760S-V/L and EC-760Z-V/M, L
High-definition images with quite low noise level are established by Megapixel CMOS sensor. It allows superior visualization for Full HD display.
EG-760Z, EC-760ZP-V/M, L and EC-760Z-V/M, L
With Continuous mode, Step Zoom mode of "2 Step", "3 Step" and "5 Step" are available. In this modes, images can be magnified in stages by simple press of button.

Flexibility Adjustment Mechanism
EC-760R-V/M, I, L, EC-760ZP-V/M, L, EC-760P-V/M, L, EC-760S-V/L and EC-760Z-V/M, L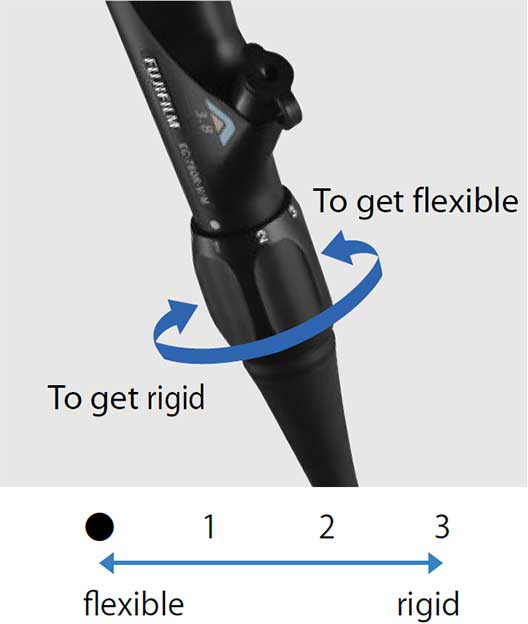 Flexibility Adjustment Mechanism
The flexibility of insertion tube can be adjusted with adjustment ring.
Advanced Force Transmission
EC-760R-V/M, I, L, EC-760ZP-V/M, L, EC-760P-V/M, L, EC-740T/M, L, EC-760S-V/L and EC-760Z-V/M, L The flexible portion is designed to transmit operator's movements, pushing and rotating, to the distal end of endoscope.
Passing the sigmoid colon
EC-760R-V/M, I, L, EC-760ZP-V/M, L, EC-760P-V/M, L, EC-740T/M, L, EC-760S-V/L and EC-760Z-V/M, L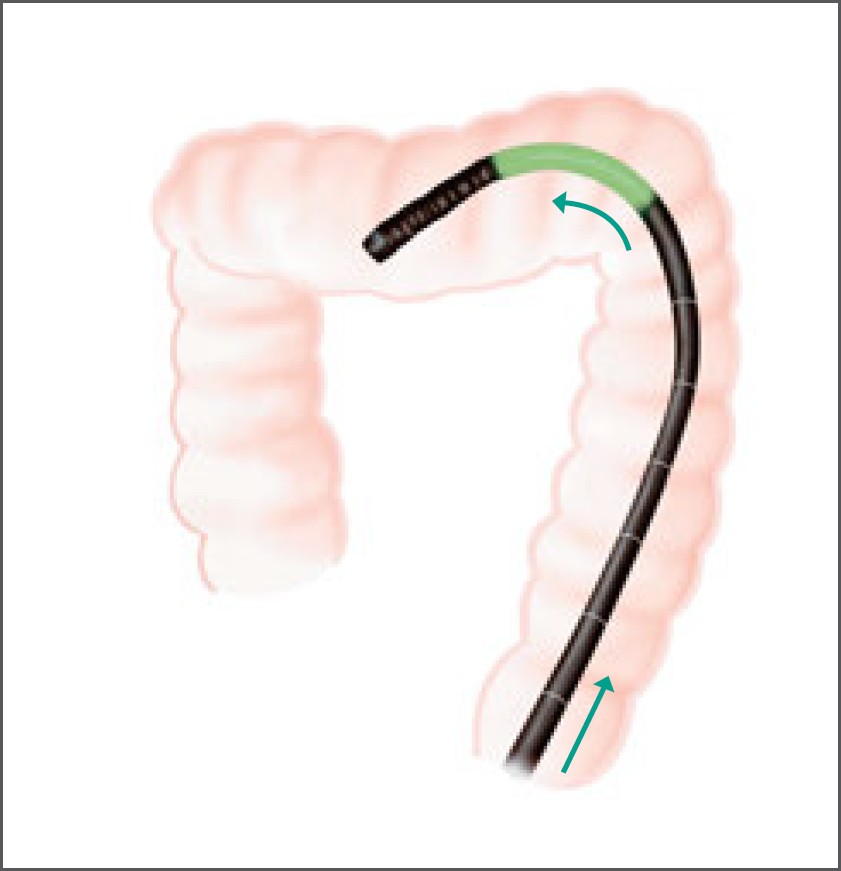 Returning to its straight shape easily
The scope's adjustable part has a smooth end that allows it to bend effortlessly. The movable section is elastic and returns to its original shape quickly.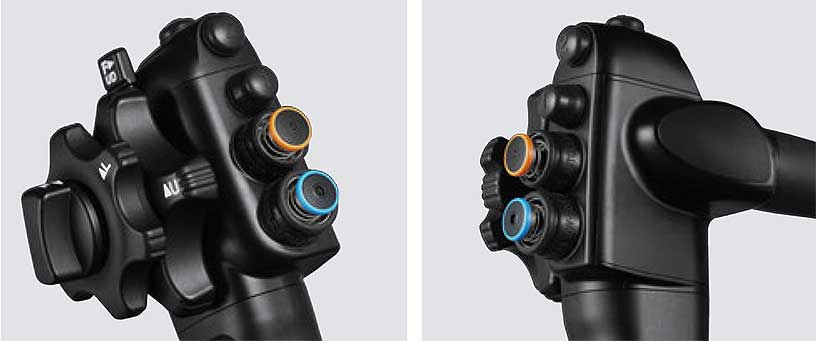 The G7 control Portion was designed with a functional design in mind. The scope has a curved surface that fits well in the hand, and the button configuration allows for simple use.
The model id and instrument channel inlet size are displayed on labels connected to the control section.
One Step Connector with Contact-free Technology
In only one move, scopes can be attached to a light source. Setup no more necessitates the use of a scope cable. The One Step Connector improves clinical operational productivity.
*a Power feed: Wireless electrical supply 
*b Image transmission: High speed optical laser
*c Remote signal: infrared [IR] LED
This's the generic name of below 3 points. It means connectors do not need to touch to transmit power and image data.
By this technology, durability and reliability of scopes is expected to improve.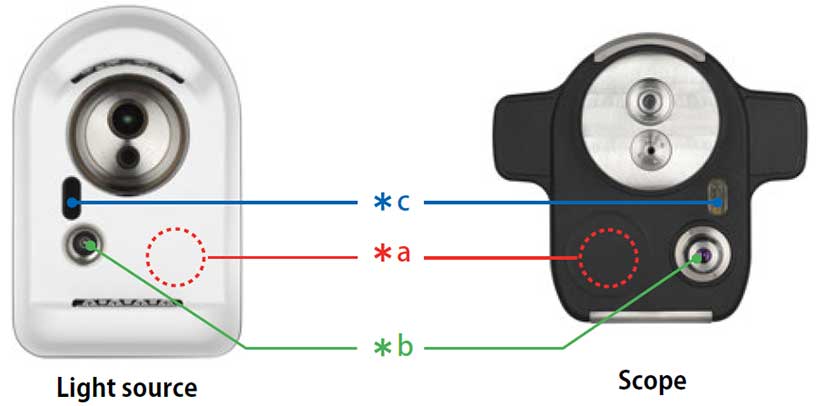 Wide compatibility to conventional endoscope
Compatible with 700 series, 600 / 500 series endoscopes
|   | BLI | BLI-bright | LCI | WLI | FICE |
| --- | --- | --- | --- | --- | --- |
| 700 Series | 〇 | 〇 | 〇 | 〇 | 〇 |
| 600 / 500 Series | ✖ | ✖ | ✖ | 〇 | 〇 |
600/500 endoscopes can be used with White light and FICE mode.
* FICE : Flexible spectral Imaging Color Enhancement
Low-energy, long-lasting and bright light source
*1 The warranty period is 1 year after date of purchase.
Expected Lifetime
When compared to standard xenon light sources, the LED light source*1 consumes about a third of the energy and lasts longer.
Life time of the 4 LED light is expected for 6 years based on Fujifilm evaluation condition.
Intensity of BL-7000 qualifies that of 300W Xenon lamp.
Small diameter scopes
Slim scopes offering various functions necessary for examinations, with a potential to alleviate patients' discomfort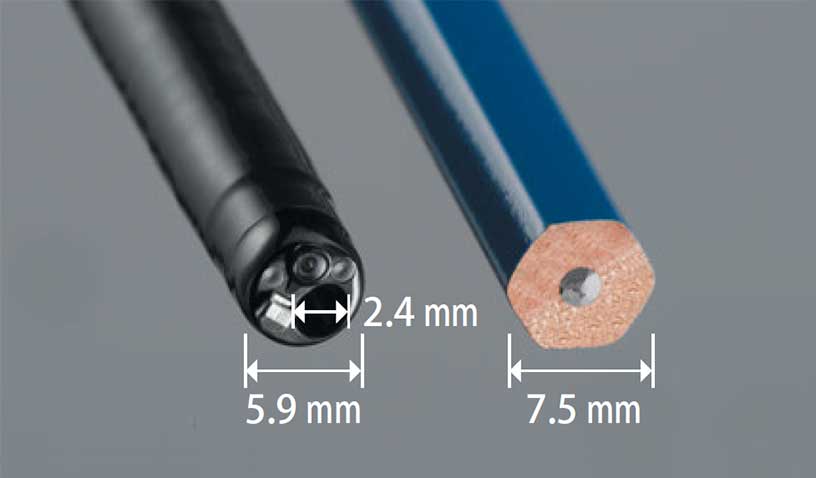 EG-740N, having 5.9-mm outer diameter and 2.4-mm instrument channel diameter, demonstrates good suction performance. Its slim body could support observations of stenosis and other areas where the scope insertion is difficult, offering a potential to alleviate patients' discomfort. Not only oral but also transnasal insertion is possible. EG-740N can be used for LCI/BLI as well as high-definitionwhite light observation.
Loaded with Flexibility Adjustment Mechanism, Advanced Force Transmission and Adaptive Bending, these slim endoscopes 11.5 mm in diameter could be inserted into the body smoothly. A variety of feature including CMOS image sensor, LCI/BLI observations and water jet function make these scopes also useful as routine scopes.
Accommodating various treatments with wide movement range
EG-760CT
Upper G.I. tract scope for treatment
Suction efficiency is enhanced by a wide instrument channel dimension of 3.8 mm. This scope is ideal for looking at places where there is a lot of waste or where there is a risk of bleeding. Because this endoscope is suitable for a variety of endotherapy tools, it can be used for a variety of procedures including polypectomy, EMR, and POEM.
EC-740T/M, L
Lower G.I. tract scope for treatment
The 210° upward bending capacity and tiny radius curvature provide for simple access to specific inspection points and tumors during EMR, ESD, and other endoscopic treatments, allowing for precision control. Furthermore, because the distal end of these scopes is as tiny as 9.8 mm in diameter, they might be helpful in situations where placement is problematic.